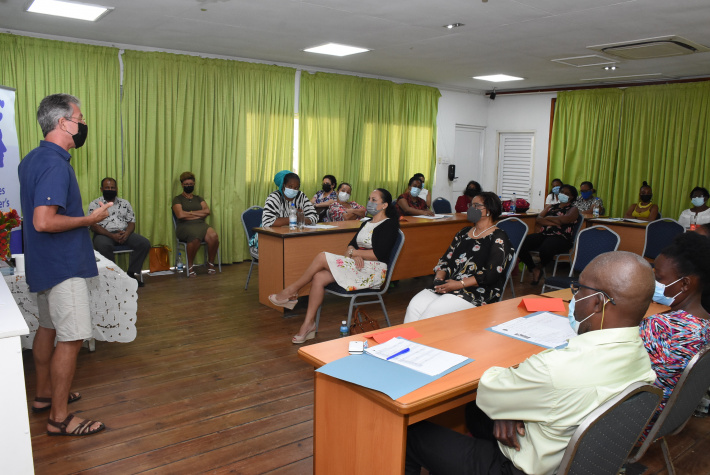 Alzheimer's disease, which is the most common cause of dementia, is a silent epidemic which people rarely talk about.
This was one of the key points which were raised in a two-part workshop on how to better understand the aspects of the illness and deal with patients suffering with Alzheimer so as to raise the standards of care for Alzheimer sufferers.
The workshop was held at the Exile Club on two Saturdays – the first on August 22 and the second on August 28 – and had been organised by the Seychelles Alzheimer's Foundation.
Over 15 caregivers participated in the 18-hour long workshop and received their certificates at the end of the session on Saturday in the presence of Minister for Employment and Social Affairs, Patricia Francourt.
The participants covered essential topics such as how to communicate effectively with Alzheimer sufferers, the different stages of the disease and the types of behaviour at each stage, memory activities to help maintain the cognitive skills of people with Alzheimer's as well as how the caregivers themselves need to avoid burnout.
Psychotherapist Jimmy Petrousse was one of the facilitators of the workshop who walked the caregivers through the different aspects of Alzheimer and how to see the disease from the perspective of those they are taking care of.
Issues such as high rate of depression in persons affected with dementia, how to deal with bouts of aggression, frustration and helplessness and ethics were discussed during his intervention.
The workshop concluded with a personal account of a caregiver, Jacques Hortère, who took care of his mother, who had the disease, until her recent passing.
"We need specialised caregivers for those with dementia. Last Saturday, we covered topics such as what is Alzheimer, dealing with Alzheimer in its different stages and this Saturday we covered exercise, safety, positioning the patient, communicating with Alzheimer patients and managing their behaviours," stated Nane Lionnet, a member of the Seychelles Alzheimer's Foundation.
Raymonde Vidot, caregiver to a patient living with Alzheimer, noted that the knowledge acquired at the workshop will help her in providing better at-home care to her patient and she will be prepared if the patient's situation worsens.
"At present, my patient is quite easy to manage and work with but given the nature of the disease, you never know what might happen," she stated.
Another participant, Myrtille Constance, said that the training has provided her with a wealth of knowledge as she and her family learns how to deal with her father who has been diagnosed with Alzheimer.
"There are a lot of things that I did not know about the disease and these types of workshops should be held on a regular basis and open to a wider group of people," Ms Constance added.
On her part Mrs Lionnet noted that the foundation is working to organise a series of activities to commemorate World Alzheimer's Month, to be observed in September.
Elsie Pointe