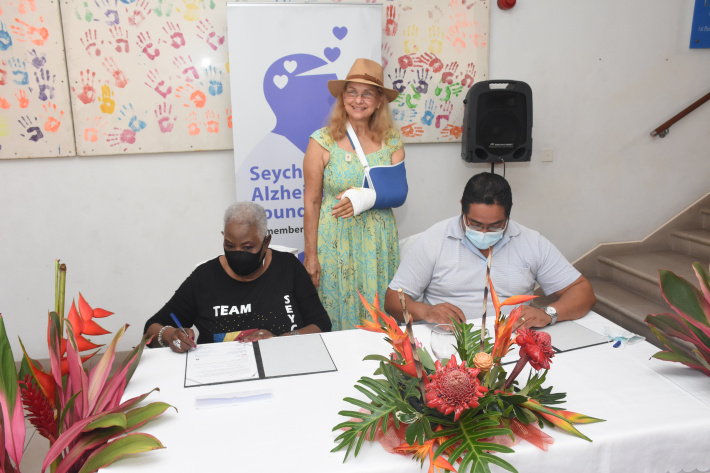 For the first time, a memorandum of understanding has been signed between the Seychelles Alzheimer's Foundation and the Women With A Call International (WWACI), a non-profit Christ-centered organisation based in New Mexico, United States.
The MoU was signed by the founder of the Seychelles Alzheimer's Foundation Lise Church, founder of WWACI Dr Elizabeth Hairston-McBurrows and chief executive of the Civil Engagement Platform Seychelles (Ceps) Alvin Laurence.
The ceremony was attended by First Lady Linda Ramkalawan, United States chargée d'affaires for Seychelles and Mauritius Judes DeBaere, US embassy political and economic officer Nicolas Christian, the 12-strong delegation accompanying Dr Hairston-Mc Burrows in Seychelles and members of the Seychelles Alzheimer's Foundation.
According to the newly signed MoU, the WWACI has committed to raising the sum of US $25,000 to donate to the foundation as well as provide a shipment of supplies containing toys, educational material and other items that can be used to enhance the live of Alzheimer patients in Seychelles.
Nane Lionnet, a member of the foundation, explained that even though they are elderly, Alzheimer patients tend to enjoy having stimulating toys such as bears to stroke and manipulate with their hands, which is very important for patients with cognitive loss.
The shipment is already making its way to the Seychelles and expects to reach the country in around 21 days.
WWACI, in partnership with local organisation Virtuous Women of Seychelles, has also committed to what it can to assist Alzheimer patients.
The details of the agreement may be revised by both parties in September 2023.
Apostle Dr Elizabeth Amelia Hairston gave up a career in show business to become an Ambassador for Jesus Christ, and now ministers apostolically and prophetically in music, dance and drama.
She spearheads WWACI which has for objective to identify worthy projects to assist, and works to reach women of all socio-economic background, and help them identify the call of God in their lives.
"WWACI does whatever it can to build women up worldwide and in the process of that, when I met Mrs Church at the consulate, I knew that there was a connection and I actually ended up coming to Seychelles through a dream I had 20 years ago," stated Dr Elizabeth.
Dr Elizabeth explained that the Seychelles Alzheimer's Foundation is close to heart because she has encountered early signs of the neurodegenerative disease in residents of their homes in the United States.
"Today is a special day for our organisations because we are creating a great friendship," noted Mrs Church.
"Alzheimer is such a terrible disease that has no cure and it not only affects the patients themselves but also the families, mentally, phycially and financially. Dr Elizabeth decided that the WWACI will help us through our efforts," added Mrs Church.
Elsie Pointe